Pankov Igor Alexandrovich
02 August 1968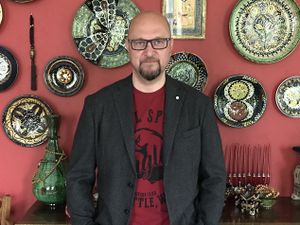 Biography, education, career:
In 1985, he graduated from secondary school № 14 in Leningrad and entered the Leningrad Polytechnic Institute (Polytech). From 1987 to 1989 served in the military. In 1993 graduated from St. Petersburg State Polytechnic University (Polytech). After graduation worked in the field of entrepreneurship. In 2000-2001 held professional retraining in the direction of "Management" at the St. Petersburg International Institute of Management.
In 2015 he graduated with honors from the Educational and Scientific Center for Social Anthropology of the Russian State Humanitarian University in Moscow with a degree in anthropology and ethnology.
From 2016 to 2018 he was a postgraduate student at the International Center for Islamic Studies of the Peter the Great Museum of Anthropology and Ethnography of the Russian Academy of Sciences (Kunstkamera). In March 2019 he defended his thesis for the degree of candidate of historical sciences. The theme of the dissertation is "The cult of Yusuf Hamadani in Central Asian Islam as a sociocultural phenomenon." Supervisor - S. N. Abashin.
Since 2017 - President of the non-profit foundation for the development of scientific and cultural projects "Al Maqam" (NF "Al Maqam"). The Foundation holds the annual festival of oriental art (DAIRAFEST), which organizes traditional music concerts, exhibitions, lectures, workshops and other events that promote culture and promote the ideas of preserving the cultural traditions of the peoples of the East.

Research Interests:
History and ethnography of the peoples of Central Asia, Islamic studies, Visual anthropology, Modern ethno-political and ethno-religious processes.

Publications:
• Pankov I. А. The cult of saints in Islam: the social space of the mazar // Bulletin of the R. Series "History. Philology. Culturology. Orientalism. 2018. No. 9 (42). Pp. 139–154. DOI: 10.28995/2073-6355-2018-9-13-9-154 (in Russian).
• Pankov I. А. The Daira for everybody: ritual of the Comorian sufi orders and nowadays // Scientific almanac "Traditional culture". 2018. Vol. 19. No. 3. P. 91–99 (in Russian)
• Pankov I., Bustanov A. Transregional history of a muslim family: Oral and written testimonies on the descendants of Muhammad Sharif al-Bulghari // Manuscripta Orientalia. International journal for Oriental Manuscript Research. 2018. Vol. 24, № 1. P. 20–25. DOI: 10.31250/1238-5018-2018-24-1-20-25 (in Russian).
Expeditions:
• 2011: Expedition "In the footsteps of Rumi" to Turkey.
• 2012-2019: regular field trips to the republics of Central Asia and the Caucasus.
• 2016: Expedition "Sufism in East Africa" to the Comoros.
• 2017 Expedition "The Material World of the Koran" to Oman.
• 2017: Expedition "Islam in Central Africa" to Cameroon.
• 2018: Expedition "Islam in West Africa" to Nigeria.