Kozin Sergey Andreevich
19 October [ 7 October] 187916 October 1956, Leningrad, Tuapse, Black Sea Governorate —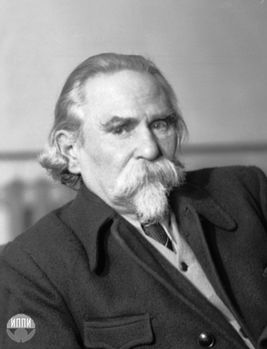 Biography, education, career:
In 1898‑1903 Kozin studied at the Faculty of Oriental Languages of St. Petersburg University. In 1906‑1918 participated in the expedition for the statistical, economic and ethnographic survey of the Mongolian tribes. Since 1920 Kozin successfully occupied the positions of lecturer at the Petrograd Institute of Living Oriental Languages / Leningrad Institute of Living Oriental Languages / Leningrad Oriental Institute (1920‑1938), researcher at the Asiatic Museum (1924‑1930), senior researcher at the Institute of Oriental Studies of the USSR Academy of Sciences (1930‑1956), lecturer and Professor at the Faculty of Philology (1935‑1944), Dean of the Faculty (1944‑1946), Head of the Department of Mongolian Philology (1944‑1950) at the Faculty of Oriental Studies, Leningrad State University. Kozin was granted a Doctor of Philology degree (without a defense procedure) on March 3, 1941 and awarded the title of Professor on March 28, 1943.
Areas of expertise: History and ethnography of Mongolian peoples; Folklore studies
Click here to view full article in Russian.