Andreeva Julia Olegovna
21 August 1984, Novgorod region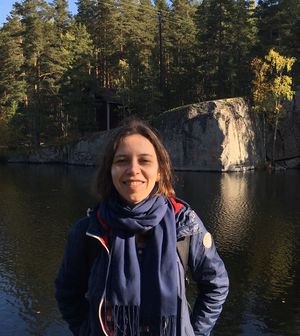 Biography, education, career:
In 2006 has graduated with a bachelor's degree in Religious Studies from department of philosophy of Saint Petersburg State University. In 2010 has graduated with master's degree in Anthropology from European University at Saint Petersburg. In 2017 has got PhD degree (Candidate of Sciences) in History. The title of thesis is "The Projects of World Transformation in New Religious Movement 'Anastasia': Anthropological Aspects of New Age Religion in Modern Russia" (supervisor is Sergei Shtyrkov). Since 2017 works in Caucasus Department, doing research of old Russian sect in the Transcaucasia. Has a rich experience of fieldwork in different regions of Russia and neighboring countries.
Research Interests:
Spiritual Culture, History and ethnography of Russians, Inter-ethnic relations, Modern ethno-political and ethno-religious processes, Ethnography of everyday life, Ethnoreligious studies, New Age, Russian sectarianism.

Publications:
• Андреева Ю.О. «Когда слова судьбу меняют»: «тайный язык» последователей Анастасии // Мистико-эзотерические движения в теории и практике: мистицизм и эзотеризм в России и других странах постсоветского пространства. Сб. материалов Девятой всероссийской научной конференции с международным участием (9–11 ноября 2017 г., Москва) / Отв. ред. и сост. С. В. Пахомов. Санкт-Петербург: Издательство РХГА, 2018. С. 178-192.
• Andreeva J. Verbal Clichés of Followers in the "Anastasia" New Religious Movement // Anthropology & Archeology of Eurasia. 2018. Vol. 57, issue 2. P. 88-106.
• Андреева Ю.О. «Творить рай на земле»: культ земли и природы в новом религиозном движении «Анастасия» // Изобретение религии: десекуляризация в постсоветском контексте. СПб.: Изд.-во ЕУСПб, 2015. С. 163-185.
• Андреева Ю.О. «Чужая вера»: рассказы о религии соседей (по материалам экспедиций в Латгалию) // Живая старина. 2015. №2(86). С. 28-31.
• Андреева Ю.О. "Места силы", "духи дольменов" и "знания первоистоков": археологические памятники и движение New Age "Анастасия" // Этнографическое обозрение. 2014. №5. С. 73-87.
• Андреева Ю.О. Возвращение к истокам: фольклорные клубы и новое религиозное движение «Анастасия» // Традиционная культура. 2014. №2. С. 50-58.
• Андреева Ю.О. Вопросы власти и самоуправления в религиозном движении «Анастасия»: идеальные образы родовых поселений и «воплощение мечты» // Антропологический форум. 2012. №17 Online. С. 101-128.
• http://anthropologie.kunstkamera.ru/files/pdf/017online/andreeva_links.pdf
• Андреева Ю.О. Представления о народных традициях в движении «Звенящие кедры России» // Аспекты будущего по этнографическим и фольклорным материалам: Сб. науч. Ст. / Отв. ред. Т.Б. Щепанская. СПб.: МАЭ РАН, 2012. С. 231-246.
• http://www.kunstkamera.ru/files/lib/978-5-88431-204-3/978-5-88431-204-3_14.pdf
• Andreeva J., Pranskevičiūtė R. The Meanings of Family Homestead in the Anastasia Movement: the Cases of Russia and Lithuania // Humanitāro Zinātnu Vēstnesis, Daugavpils, 2010. P. 94-107.